West Java election officials to get rapid tests: Ridwan Kamil - Jakarta Post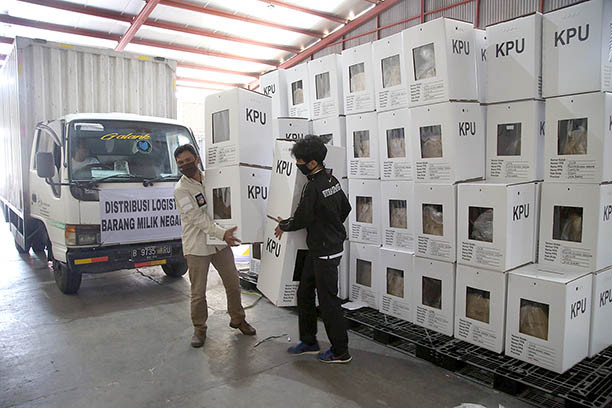 West Java will provide COVID-19 rapid tests only for regional election officials ahead of voting day on Wednesday.
"Ideally, we would like voters to take the test, too, but we have no capacity to do so. Therefore, we will only test election officials," West Java Governor Ridwan Kamil said after a weekly coordination meeting for COVID-19 handling on Monday.
The Bandung Regency Election Commission (KPU) previously conducted rapid tests on 61,866 officials who are set to monitor the regency's election, which will involve some 2.3 million voters.
"Officers who showed reactive results from the rapid test will be replaced," Ridwan said.
The West Java provincial administration initially considered the possibility of requiring voters to take a swab test prior to casting their ballots at the polls, especially as the regional head elections will take place simultaneously in the region's red zones, namely Karawang, Sukabumi, Bandung, Cianjur, Pangandaran, Indramayu, Tasikmalaya and Depok.
In last week's coordination meeting, West Java's COVID-19 and economic recovery committee members discussed the possibility of requiring the test for voters aged 40 and above. West Java Deputy Governor Uu Ruzhanul Ulum explained that based on his observations, most COVID-19 patients were over the age of 40.
To anticipate a spike in COVID-19 cases as a result of the regional elections and the year-end long weekend, Ridwan urged all voters to follow health protocols.
Read also: Indonesian poll body cancels electronic system to tally votes in December
"Avoid spending too much time at the voting station. I have ordered West Java to perform a virtual recapitulation as we are still not allowed to perform digital voting, so people won't have to spend too much time in one spot," he said.
Meanwhile, the first batch of a COVID-19 vaccine produced by China's Sinovac Biotech has arrived in Indonesia.
As many as 1.2 million doses of the vaccine are now stored in a warehouse of state-owned pharmaceutical company PT Bio Farma in Bandung after landing at Soekarno-Hatta International Airport in Tangerang, Banten, on Sunday evening.
However, it remains unclear as to when the government will release the vaccine for public use as it is still waiting for an emergency approval from the Indonesian Food and Drug Monitoring Agency (BPOM). 
Ridwan himself has already created a priority list for vaccine recipients in West Java, which has a population of 50 million people. 
"We have already prioritized 350,000 health workers and 150,000 Indonesian Military and National Police personnel working at the frontline [of the fight against COVID-19]," the governor said.
People living in high-risk red zones are the next group to receive the vaccine, namely Bogor, Depok, Bekasi and Bandung. 
Ridwan conceded that he did not know how many doses West Java would receive. He previously requested 3 million doses for the residents of Bogor, Depok and Bekasi. (adi/dpk)
Editor's note: This article is part of a public campaign by the COVID-19 task force to raise people's awareness about the pandemic.
2020-12-08 12:21:00Z
https://www.thejakartapost.com/news/2020/12/08/west-java-election-officials-to-get-rapid-tests-ridwan-kamil.html