COVID-19 handling: Bekasi mayor asks West Java governor to visit regions - The Jakarta Post - Jakarta Post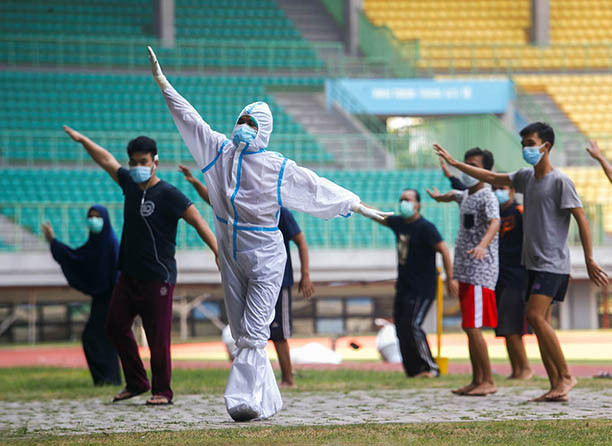 The mayor of Bekasi in West Java, Rahmat Effendi, has asked the provinces governor, Ridwan Kamil, to visit other regions in the province as the latter opened an office in Depok on Friday to monitor the handling of COVID-19 and regional elections.
"It would best for the governor to also visit other regions of the province, like Bekasi and Bogor, to see how they handle COVID-19 specifically. 
"Each region has its own approach, and I think it would be meaningful for the governor to see how seriously we're doing this," Rahmat said on Thursday as quoted by kompas.com. 
He went on to say that it was understandable for the governor to open the office in Depok, as the city was deemed to be showing slow progress in containing the virus. 
Depok has recorded the highest number of cases in the province with 4,386 as of Friday.
Read also: Ridwan Kamil opens office in Depok to monitor COVID-19, regional elections
Rahmat further said that each region had a different way of pushing down the number of cases, adding that he continued to communicate with the governor on handling COVID-19.
"I don't think that [West Java] needs to apply one specific strategy for all regions [...]. What's important is to make sure that we're having more recoveries," he added.
As of Thursday, Bekasi recorded a total of 3,322 confirmed cases.
With a total of 22,764 cases, West Java accounted for 7.8 percent of all of Indonesia's confirmed cases of 291,182 on Thursday. Meanwhile, the province has recorded 13,778 recoveries and 435 deaths.
Ridwan reportedly opened the office in Depok on central government orders to optimize efforts to curb the spread of COVID-19 in Jakarta's surrounding areas in West Java. 
"Nearly 70 percent of the COVID-19 cases in West Java are contributed by Bodebek [Bogor, Depok, Bekasi], so the central government directed me to focus on handling those areas," the governor said on Wednesday, as quoted by tempo.co.
Read also: COVID-19 cases in prioritized provinces decrease, but still high: Task force
Ridwan, who spends most of his time in the province's capital of Bandung, said having an office in Depok could also help him carry out tasks in the "red zones", including monitoring the regional elections at the end of the year. 
"Once or twice a week, depending on the situation, I would be in Bodebek areas, especially in Depok," he said, adding that his plan would last for several months. 
He expressed hope that he could set an example for COVID-19 task forces in Bodebek to work harder to curb case numbers and said the West Java Police and the Military Command (Kodam) III/Siliwangi in Bandung supported this "tactical" policy. 
"Where there is a red zone, where there are high numbers of violations, the police chief and the military commander will send their teams as back-up," he said. 
Recently, he said, the West Java Police had tasked its leading officers in Cirebon with controlling virus transmission as the city became a red zone. Moreover, the West Java deputy police chief had opened an office in Bogor to directly help the city mitigate the outbreak, he added. (syk)
2020-10-02 06:09:00Z
https://www.thejakartapost.com/news/2020/10/02/covid-19-handling-bekasi-mayor-asks-west-java-governor-to-visit-regions.html