Depok to impose curfew amid recent COVID-19 cases surge - The Jakarta Post - Jakarta Post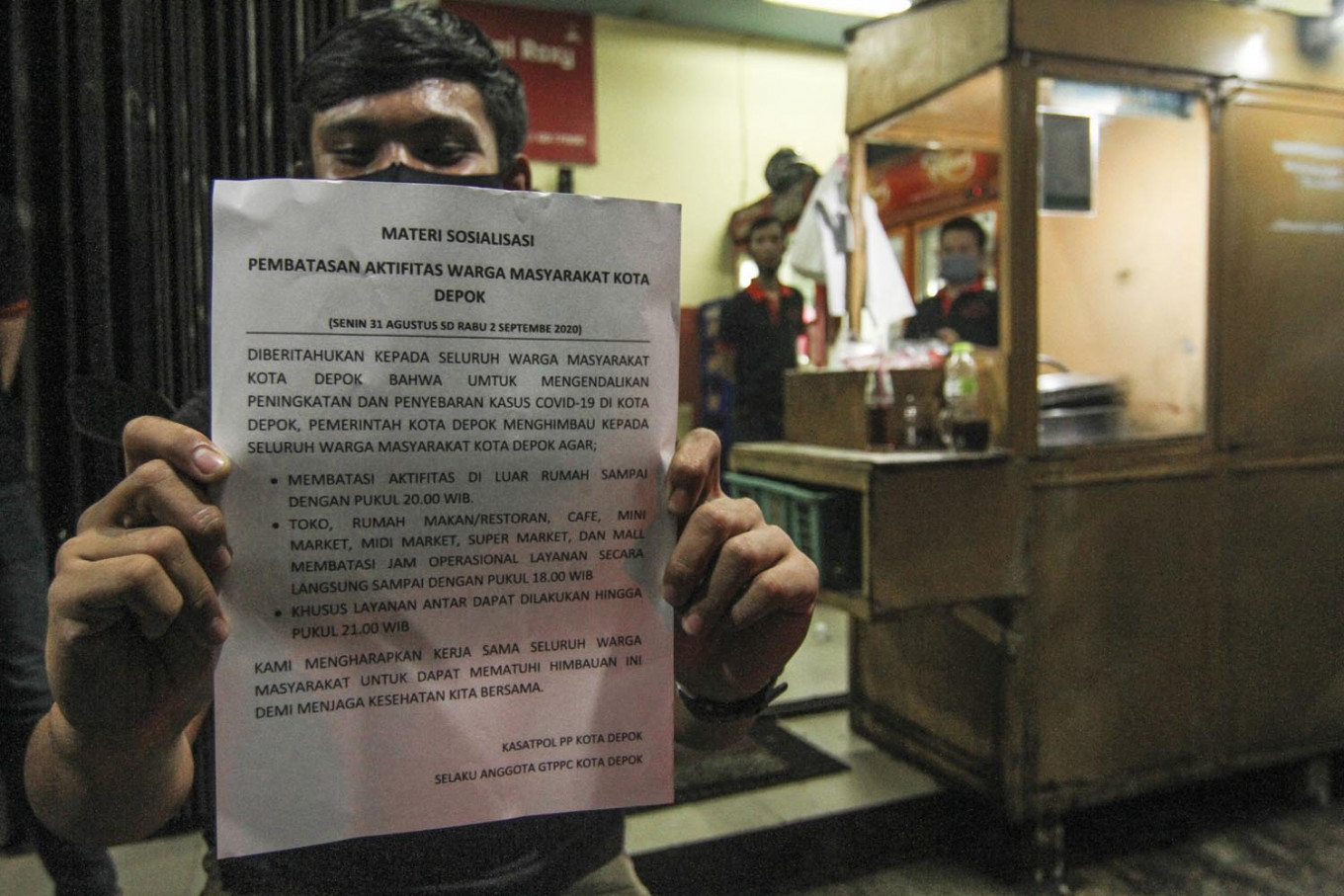 Depok municipality in West Java will impose a curfew to restrict people's movements in the city after health authorities confirmed a significant surge in the number of COVID-19 cases recently.
Mayor Mohammad Idris said public places such as restaurants, supermarkets and malls could only operate until 6 p.m., while courier services were allowed to operate until 9 p.m.
Moreover, residents are restricted from engaging in out-of-home activities after 8 p.m., as reported by kompas.com.
Depok COVID-19 task force spokesperson, Dadang Wihana, said the administration had finished a draft of a mayoral regulation stipulating the curfew policy, which is described as "restrictions on residents' activities", as well as sanctions for violators.
"The draft was finished yesterday [Monday]. We can start enforcing legal sanctions on [Thursday]," he said on Thursday.
While refusing to provide further details on the regulation, Dadang added that the curfew would also apply to street vendors and food stalls.
Read also: 'Chaotic': Epidemiologists concerned about healthcare crisis after recent surge in COVID-19 cases
The administration will deploy a total of 88 public order agency (Satpol PP) personnel, who will be assisted by military and police personnel, to educate local residents on the curfew until Wednesday.
Depok Satpol PP head, Lienda Ratna Nurdiany, said authorities would start imposing sanctions for violators once the regulation was issued.
Dadang further said that the curfew would not be applicable for residents whose working hours were after 8 p.m. They, however, would be required to show their identity card, assignment letter and other supporting documents.
As of Monday, health authorities had confirmed a total of 2,210 COVID-19 cases, reportedly the highest among other cities across West Java. The administration also reported 77 deaths from the disease.
Depok will become the second city in West Java as well as Greater Jakarta to impose a curfew, with Bogor starting to enforce the policy on Saturday amid an increasing trend in COVID-19 cases across the city. (trn)
2020-09-01 11:36:00Z
https://www.thejakartapost.com/news/2020/09/01/depok-to-impose-curfew-amid-recent-covid-19-cases-surge.html