Businesses in Depok suffering under curfews, mayor mulls tweaking policy - Jakarta Post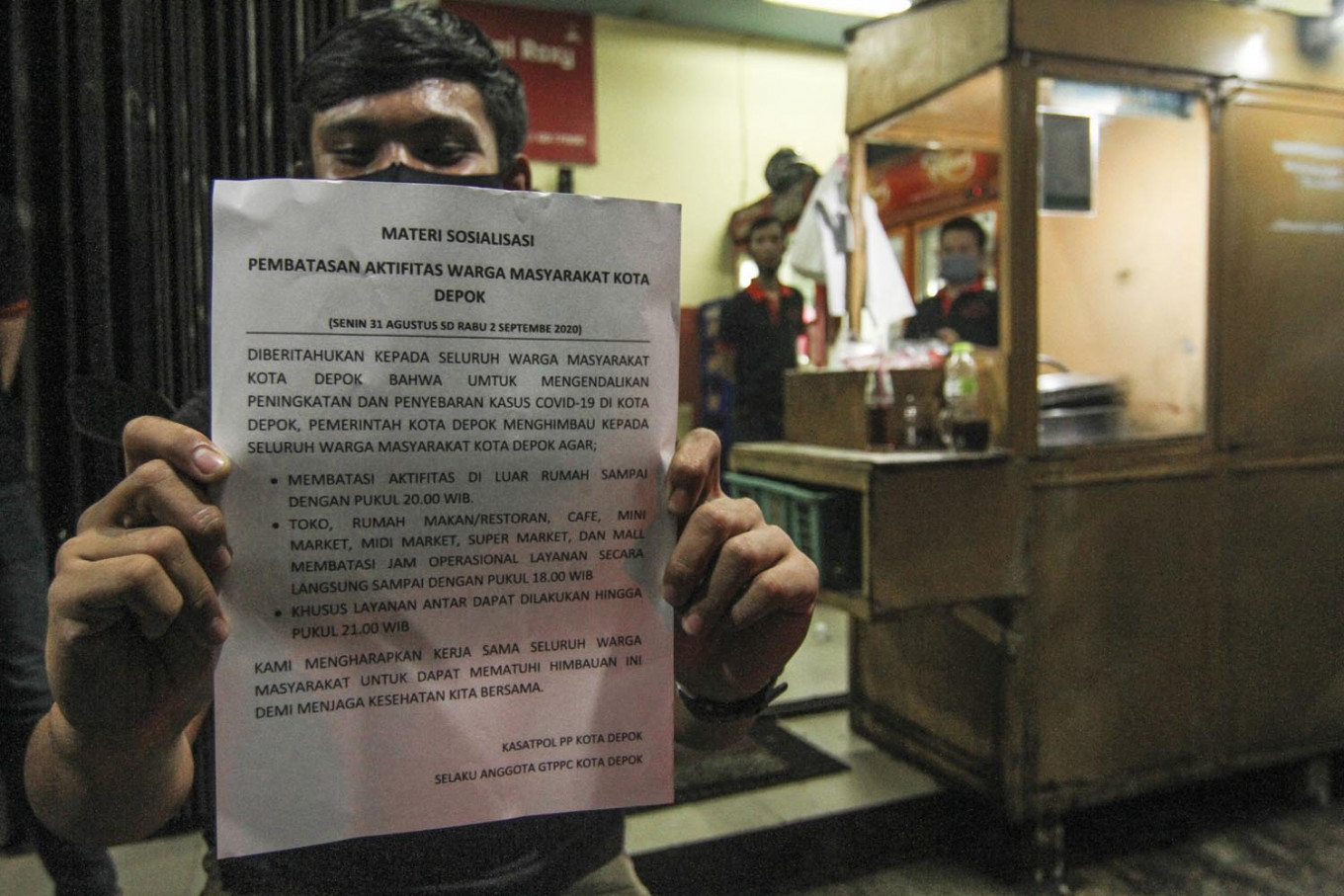 Two weeks after Depok, West Java, imposed curfews to counter the rising number of cases of COVID-19, the city has seen businesses beginning to close down.
The Indonesia Department Store Association (APBI) has reported that roughly 40 percent of total merchants in the city have been forced to stop their operations because of the curfews.
In a quick response, Depok Mayor Mohammad Idris said he was mulling the idea of tweaking the curfews.
"We will probably change the curfews since we are concerned about the economic recovery issue," Idris said on Tuesday as quoted by kompas.com. "We can push back the curfew for outdoor activity to 9 p.m., and 8 p.m. for businesses. We will be strict on these possible updated policies."
On Sept. 1, the Depok mayor announced that public places, such as restaurants, malls and supermarkets, were only allowed to operate until 6 p.m., while courier services are allowed to operate until 9 p.m. Residents are prohibited from conducting activities outside of their homes after 8 p.m.
Read also: COVID-19 office clusters outside Depok create family clusters in the city: Official
However, Depok APBI chairman Sutikno Pariyoto said the curfews had hit businesses, most of which operated at night, with significant revenue losses in the two weeks since the policy had come into effect.
Most of the businesses' customers are workers, who regularly spend their money on food and other things after they finish work.
"Employees usually return from their work at around 6 p.m., and they often visit the malls to have dinner, to have some coffee, or to shop, but [because of the curfew] they're going straight home," Sutikno said on Tuesday, adding that after 6 p.m. was the perfect time for businesses to operate.
He said he was relieved to hear about the mayor's plan to tweak the curfews.
As of Wednesday, Depok had recorded 856 active cases of COVID-19. (dpk)
2020-09-17 01:15:00Z
https://www.thejakartapost.com/news/2020/09/16/businesses-in-depok-suffering-under-curfews-mayor-mulls-tweaking-policy.html